Arny Childhood

by Clare Gibson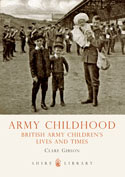 Click to enlarge
Clare Gibson, operating The Army Children Archive website at http://www.archhistory.co.uk, is the conscience of barrack rats everywhere. Her Army Childhood, published by Shire Library, is a must read by anyone who ever followed the drum. Like it or not, barrack rats led nomadic lives. Where their fathers (and today in many cases, their mothers) were posted the family went, too. In the earliest days, military families lived in the same barrack rooms as the men. Yet the Army did not take long to be more considerate and provide married pads for military families. Whether part of the British Raj of Imperial India, in the West Indies, Mediterranean stations or in farthest-flung reaches of the Empire military families were to be found: Malta, Gibraltar, Hong Kong and Singapore; Cyprus, Egypt, Palestine, New Zealand, Kenya and not forgetting the Home Command - the locations seemed endless.
Army Childhood is a slim volume written with passion and understanding of the lives military families lived. Most children grew to adulthood and lived productive lives. Some such as Sir Arthur Sullivan, Henry Lazarus the most famous clarinetist of the 19th century, General Sir Archibald Nye, Spike Milligan, Christopher Isherwood, Jilly Cooper and Joanna Lumley to mention a few basked in the glare of the public footlight.
Whatever their achievements, most barrack rats lived lives with fond memories and affluent in detail. Those who traipsed after their fathers, learned the languages of the people with whom they shared their lives, benefited from an army education, and were altogether the richer for their foreign experience at government expense.
The world is awash with barrack rats who made it in the world of arts and letters, the theatre, architecture, engineering, the church, military service, music, medicine - too many to list here. No matter who, they are as much a credit to their military upbringing as the countless thousands of unnamed children who contributed to the life, stability and economy of the nation.
Service families will ever be indebted to Ms Gibson for this homage to their lives, their fortitude, resilience and endurance.
Published by Shire Library
ISBN: 978-0-7478-1099-5 (0-7478-1099-0)
Trade Paperback, 56 pages
Price: £6.00
Order from Amazon