Emma on Albert Street
by Art Cockerill
[Black Cat Press]
These stories and verses for children age 5 to 10 are a charming mixture of fantasy, fiction and fact. They appeal to the reader's and listener's imagination and project a strong sense of fun.
The life of the Emma of these stories is the very perfection of happiness. She has a lively wit and a mind of her own. She also has a strong sense of place in a fascinating world created by her bookish, academic mum and police constable father. Her joyful acceptance of people and the lives they lead beyond her immediate experience provides new delights at every turn of the page.
'Emma lives … with her brainy and brawny police constable dad… The rich language begs to be read aloud, if only for the chance to say, "Codswallop"'
                                                                                          Kathy Muldoon in The Toronto Star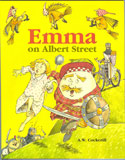 Click to enlarge
Format: 55 pp. 7" x 9½" case bound. Signed by the author.
Price £15 ($25.00 US) including handling and shipping by surface mail.
ISBN 0-921501-00-5 required to order through a bookshop.
Buy this item now - $25.00 US