Kitchen Ventilation Systems
by Thomas W. Carter
[Delta Tech Systems]
Written by a renowned kitchen ventilation system authority for architects, engineers, kitchen contractors and inspectors, this book tells all one needs to know to install, inspect and service commercial kitchen ventilation systems. It is written in two versions: one showing all dimensions and aspects of measurement in Imperial units; a section version using System International (SI) units. The blue book quotes Imperial units of measure, the green is in SI units.
With numerous illustrations, tables and easy-to-follow calculations, this book deals with the basic principles of ventilation in commercial kitchens wherever they might be located; in multi-story buildings, historic sites or stand-alone food preparation structures. It also covers the entire range of equipment used in complex kitchen ventilation systems including hoods, ducts, grease removal devices and air flow to design codes and equipment specifications.
In short, this book describes all one needs to know about kitchen ventilation systems. It is a must for anyone who deals with commercial kitchen technology.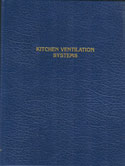 Click to enlarge
Format: 158 pp. 8¾" x 14¼" case bound [Imperial units in the blue-bound volume; SI units of measure in the green version.]
Price £50 ($80.00 US) including handling and shipping by surface mail.
ISBN 0-921501-32-3 required to order through a bookshop.
Buy this item now - $80.00 US