Lay Gently on the Coals
by Art Cockerill
Lay Gently on the Coals is a vibrant and sardonic account of the fortunes of an English family during the 1930s and '40s when times were hard and the outlook grim - hard for working families and grim for the nation. Lay Gently on the Coals is destined to become a classic novel of working-class family life before, during and after the Second World War.
'Full of rollicking good humour and Dickensian characters ... A celebration of the comic grace of ordinary people during a time of hard knocks.'
Judge James Clarke, QC, author of How to Bribe a Judge
As good any book I've read since the Good Soldier Svejk.'
Brian Marley, a veteran of the Australian Defence Force.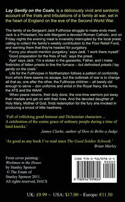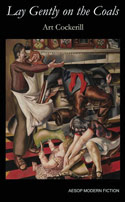 Front Cover -
Click to enlarge
- Rear cover
Lay Gently on the Coals is a vibrant account of ordinary English family life in the middle of the last century, with characters masterfully brought to life with humor and a real understanding of the human spirit. Cockerill is a craftsman!
Martin Bodenham, Financier and author
Published by AESOP Publications under the AESOP Modern imprint
ISBN 978-0-9569098-2-4 for orders placed through bookstores; Format: 258 pp. Demi 8vo, paperback
Price: $25.00 US including handling and shipping by surface mail.
Alternatively this book may be ordered from
orders@aesopbooks.com for £9.99
Buy this item now - $25.00 US