The Charity of Mars

by A.W. Cockerill
[Black Cat Press]
Between 1803 and 1893, over 11,000 children of soldiers of the British Army's NCOs and rank and file soldiers received the Army's charity. Of these children, 1,779 were girls and 9,278 were boys ranging in age from six months to fourteen.
At the height of the Napoleonic Wars (1807-1815), the Royal Military Asylum was home to 1600 orphans and children in need: 1000 boys and 600 girls. In a short time, the Asylum expanded to three locales: Chelsea, the Isle of Wight, and Southampton.
This book, written and published to celebrate the bicentenary of the Duke of York's Royal Military School as the RMA became known in 1892, is a vigorous history. It tells the story of the Army's creation of a second military school, based on the working of the Royal Hibernian Military School, Phoenix Park, Dublin. It deals with the Army's experiment in education and social welfare of soldiers' children in need to the lasting benefit of society at large.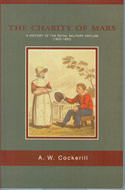 Click to enlarge
Format: 238 pp. 5½" x 8½" paperback.
Price £15 ($25.00 US) including handling and shipping by surface mail.
ISBN 0-921501-07-2 required to order through a bookshop.
Buy this item now - $25.00 US