Sons of the Brave

by A.W. Cockerill
Published in 1984, this is the story of boy soldiers. There were well over a quarter of a million ex-boy soldiers scattered around the world and many of them are still in uniform. The Army, not only in the United Kingdom but in the Commonwealth, has always liked to catch its cannon fodder young. This books tells how they did it and why. It is at once a fascinating study of the development of the British Military tradition and at the same time a strong reminder that even until recently the army leaned heavily on its young recruits to form the backbone of its fighting strength. After all, many of the boys who fought in the Falklands War (1982) and some who were wounded or killed, were barely 17.
Art Cockerill traces the history of the recruiting of young boys and the foundation of the Military Schools, such as the Duke of York's, from its very earliest days and in doing so has produced a readable, scholarly account which will be of as much use to the social historian as to the military.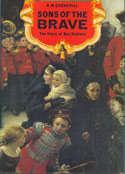 Click to enlarge
It is full of good anecdotes and will be welcomed all over the world from when has come so much information in the form of letters and papers that appeared in response to Mr Cockerill's assiduous research for this unique work.
Format: 236 pp. 6½" x 9½" case bound.
Price £50 ($85.00 US) including handling and shipping by surface mail.
2 copies signed by the author remaining
Buy this item now - $85.00 US