A Guide to Military Temperance Medals
by David A. Harris
[Stewart Publishing & Printing]
The temperance movement began in 1808 in Saratoga, New York. Its purpose was to promote abstinence, or at least moderate the consumption, of alcohol. It spread throughout the U.S.A. and reached Ireland in 1829 when the Ulster Temperance was formed. As the movement gained momentum more organisations were formed: The National Temperance League (1834); The Independent Order of Good Templars (1851); the Church of England Temperance Society (1862). The work of these societies aimed to educate society to the harmful effects of excessive consumption of alcohol, particularly by soldiers and sailors.
With the provision of 'wet canteens' in the Army, and the naval grog ration, neither the Horse Guards nor the Admiralty felt it necessary to curb drinking.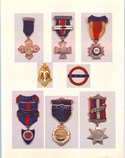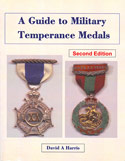 Front Cover -
Click to enlarge
- Rear cover
Despite this lack of support the temperance movement persuaded a number of military personnel to 'take the pledge'. In 1823, Lieutenant Henry Havelock of the 13th Light Infantry (1st Somerset Regiment) founded a temperance club that became known a Havelock's Saints. When Havelock became adjutant of the regiment he formed a Regimental Temperance Society temperance in the British Army took hold until 1902 when King Edward VII granted the word Royal to the Army Temperance Society to become the RATA. 
This fine, well-illustrated book traces the history of the RATA from its shaky beginning in 1823. It is magnificently illustrated with an excellent array of medals issued to members. 
Format: 128 pp. 7¼" x 9½" paperback.
Price £50 ($85.00 US) including handling and shipping by surface mail.
2 copies remaining, each signed by the author
Buy this item now - $85.00 US