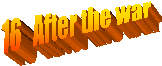 Because of my adventures and the stress I had suffered the RAF sent me to a so-called "resettlement course" at the lovely Sunningdale Mansion, which they had taken over to help returned prisoners of war. The idea was to give the men confidence to return to a normal life. At this facility, we were given tests and attended lectures and discussion groups. I forget how long I stayed there but I think I was given the choice of continuing service in the RAF if I wanted it. Vera had made it very clear that she wanted no more separations and heartache, and I made my choice to get "demobbed".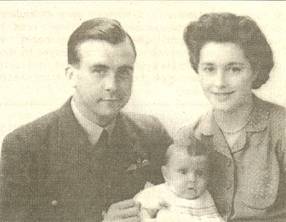 Home again, with Vera and Kristina
Vera, Kristina and I lived with Vera's parents for many weeks, until after getting a 1,000.00 pound loan from Pop we bought a small convenience store in Merton (South Wimbledon). There followed a move to a larger store in a nicer area of North Cheam, Surrey and then a move to Heath End near Farnborough, as a Sales Rep. For Walls Ice Cream, working out of Guildford and Aldershot depots. It was during our stay at Heath End that we had the joy of adding Julia to our family. In trying to produce a sister or brother for Kristina, my darling Vera had many miscarriages. Doctors kept telling us that with the new drugs and lots of rest Vera should be able to achieve a birth. Oh how we tried but it was not to be. Tiny Julia, was adopted and our prayers were answered and Kristina had her little sister.
Vera's brother, Ron and his wife Violet lived with their children in a house a few doors away and life in Heath End was good. After a year or two and a short spell of a new jab selling for "Telephone Rentals", based in London, (the most miserable period for me) we had another move. This was to Feltham, where we bought a Confectionary and Tobacco store. Kristina went to private school and things settled down until we sold the business and I succeeded in landing a good job with Lines Brothers Ltd. The largest toy manufacturer in the U.K. My territory was Hampshire and Surrey.
So we moved back to Farnborough, where we thought we would settle down. We did, and being near to Vera's family and my sister Alice and her family living in Cobham, Surrey, we had a feeling that we had "arrived"! We rented "The Old Farm", a fifteenth century, pretty, but terribly awkward and damp house in North Farnborough. Being so old, the low beamed ceilings were in frequent contact with my forehead! Vera managed to make it a home for our family but her difficulties were enough to daunt a woman of lesser fibre. We had ancient kitchen facilities and a bathroom and toilet down a covered passageway twenty feet long. But we did have a flush toilet, and we were going to build a modern house. Eventually, we achieved our aim and "Wetherby" a neat brick home with attached garage, a nice garden surrounded by a brick wall with gates became our new home. After the old farm we were in heaven, with central heating and all modern conveniences. Kristina went to another private school in Hawley. We were at home in Farnborough. Wetherby, was named after town in Yorkshire one of our country locales. Life was good. Vera's brother Gerry had gone to Canada in 1952 and his with Olive and son Rod had followed in Sept. of 1952.
Working for Triang, (Lines Brothers) was good and I was happy for many years but with changes in upper level management it became obvious to me that real advancement with the company was impossible. So the day arrived when I met with Graeme Lines the CEO and one of the three founding members. When I told Graeme that I had sold my house, my car and furniture and had booked passage for Canada he sat open mouthed staring at me! I then said I would be sure to contact Lines Brothers, Montreal to enquire about a job. No salesman had ever resigned before from Lines Brothers. It just wasn't done!!
So we left England on the brand new CP liner "Empress of Britain". She had made only the one passenger carrying round trip, Liverpool to Montreal, and that was her maiden voyage. A very rough storm one day out damaged a life boat, wrecked furniture and made the two girls and me hopelessly sea-sick. Our Angel of Mercy was Vera. She was just magnificent and put us to shame. Even the captain was sea-sick and the First Officer ran the ship, and only seven passengers turned up for the first meal after the storm.
We landed at Quebec City and then onto Montreal. Gerry's good friend, Wes Richardson met us all in Montreal. Vera's brother Ron and her sister Sheila had made the trip with us. On arrival at Toronto's Union Station we were met by Gerry, and al six of us descended on the Nunn family of three! That made nine of us staying at 15 Paperbirch Drive, Don Mills, only recently bought by Gerry and Olive. They gave us all tender loving care, an heroic selfless act that we are all grateful for to this day. We had arrived in Canada in June of 1956.
Leaving behind our home and our families in England had not been a decision we made lightly. We were determined to make a success of the new life we had chosen and to blend into the new ways of our adopted country - Canada. So our new adventures began and Canada has been very good to us, but that is a whole new story!
© C. John Taylor
November 2007