Born 20 September 1894, David Herbert Cyril Nixon was the second son of his mother's second marriage. His mother, Mary, had a son with her first husband, a soldier who died and left her a widow. David's father was John Nixon, a rifleman in the Royal Irish Fusiliers, born in Country Fermangh, Ireland. His battalion was stationed at Dover, probably at Connaught Barracks, when he met Mary. They married after a short courtship and started a family.
In 1901, a year after retirement from the Army, the head of the family died leaving Mary Nixon a widow for the second time, now with three boys to raise. She struggled, as destitute military widows with children did in those days, but the CO of the regiment came to the rescue by sponsoring her youngest, David Nixon, for admission to the School. He was at the time at the upper limit (age 11) for entry.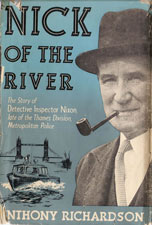 In May 1905 when David Nixon was admitted, the school was still located at Chelsea. Numbered entry 12,156 in the admissions register, David joined C Company (No. C43). Companies kept their alpha designations A, B, C etc. until the mid-1920s when they were renamed houses after famous – and some not so famous - generals of the British Army: Malborough, Wolfe, Clive, Wellington, Wolseley, Roberts, Kitchener and Haig. Tradition died hard. Companies were still referred to by their alpha designations until the beginning of the Second World War.
Boy Nixon's contemporaries included Debroy Somers and Archibald Nye. Like his fellow Dukies, when his time came to leave, he volunteered for enlistment in the army. He chose the Royal Garrison Artillery. Leaving Chelsea in September 1908 at age 14, he entered boy service at the No. 1 Depot, Woolwich, where he learned to blow the trumpet. It is not known if he was a musician while at School. In any case, at age 15, stationed at Shoeburyness, he was posted to Gibraltar where he spent most of the war years. In 1917, now a fully-fledged gunner, Nixon was shipped in 1917 to join 320 Siege Battery on the Serbian-Bulgarian frontier, rising to the rank of sergeant. In the rank of sergeant on Christmas Day, 1918, he was posted to No. 3 Prisoner of War Camp, Salonika (the camp was actually named No. 3 Concentration Camp.)
Because he had signed on to serve seven years with the colours and five with the reserve, Sergeant Nixon did not have the privilege of leaving the Army until his time was up, which came in 1920 when he was 26.
The rest of Nixon's life is pretty much history as told by Anthony Richardson in Nick of the River, still available from well-stocked libraries. In short, he joined the Metropolitan Police and worked his way up from a constable on the beat to the rank of Detective Inspector, earning an international reputation for his work as a policeman.
Being domiciled in London made it easy for him to maintain his contacts with the school and the Old Boys Association. The year he retired from the Met at age 60, he served the OBA as its president. By then, Anthony Richardson's story of Nixon's police career had been published.
An interesting footnote to the Nixon story, is that he and Ray Pearson of Perth, Australia, had formed a strong friendship about the time of David's retirement. Ray, now a Vice President of the OBA, was at Saunton Sands during WWII. David dedicated one of his books to Ray with "To Ray Pearson. A grand Old Dukie. Good luck, Ray, and good health always, From your old pal, David HC Nixon." Ray has declared that his copy of Nick of the River will be donated to the school library when he steps into his eternity box.